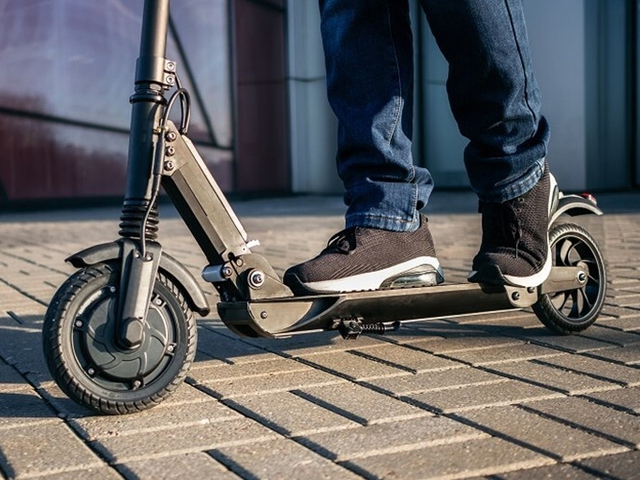 Information on Electric Scooters.

Taken from Which? January 2021
You can legally use an electric scooter on private land (not accessible to the public) as long as you have permission from the land owner. It's illegal to use electric scooters on public roads and pavements. If you get caught using an electric scooter illegally, you could face a fine of £1000 and penalty points on your driver's licence, if you have one. Your escooter could also be impounded.
Taken from Joelson Law Firm February 2021
What is the current UK regulatory framework around e-scooters? Classified as 'powered transporters' under UK law, e-scooters fall within the legal definition of a 'motor vehicle' in the UK and must follow the laws applicable to motor vehicles under the Road Traffic Act 1988. These include being registered with the DVLA, licensed, taxed, insured and fitted with number plates; at present e-scooters cannot meet these requirements. This definition is also the reason that e-scooters cannot legally be used on pavements or cycle lanes. It is an offence to use powered transporters on the pavement under section 72 of the Highway Act 1835. At present, e-scooters can only legally be used on private land and only with the permission of the landowner.
UK Government trials for rental e-scooters: where are they and how to join?
As well as fast tracking the trials last summer, the Government, in light of Covid-19, has widened the scope of the scheme across the UK. Plans for the biggest trial of e-scooters in the UK were unveiled by Transport for London (TfL) last November. TfL issued an invitation to tender to select up to three operators to take part in trials starting in Spring 2021. Operators will be assessed on their ability to meet strict safety requirements and operating standards; they will also be required to provide critical data and to demonstrate their understanding of London's transport goals.
Successful trials across Milton Keynes, Liverpool, Northamptonshire and Cambridge, which began last summer have given users a new mode of convenient and environmentally friendly transport. Working with local authorities, e-scooters' operators and users have been complying with the specific conditions required, to maintain safe and successful roll-outs. What are the rules and licensing requirements for rental e-scooters users in the UK? Where a rental e-scooter user is taking part in one of the UK government trials, there are several mandatory standards that must be satisfied by the user:
They must hold a provisional or full driving license
They must be 16 years old or over
They must not go over the speed limit of 15.5mph (some areas may be limited to a lower maximum speed limit)
They must have motor insurance (this should be covered by the hire scheme rather than the individual rider)
They must only ride on roads and cycle lanes, not motorways or pavements
The rules of careless and dangerous driving apply to e-scooter users in the trials, and although rental e-scooter users taking part in the trials are not required to wear helmets, it is encouraged. Each city's rules and needs have been customised, so these rules may vary.
E-scooters offer a ready to ride solution to users, helping to reduce congestion and provide flexibility for people around the world. Despite the rules for privately used e-scooters not yet changing, with trials now running across the UK it seems this step towards a greener revolution for urban mobility, by legalising rental e-scooters on UK public roads, is edging closer. But we are not there yet so please be aware of what the consequences could be as escooters become more popular.