At Rushden Academy we pride ourselves on delivering high quality Performing Arts provision both in and out of the classroom. We believe Performing Arts plays a significant and exciting role in the educational experience of our students, and as such we strive to offer a provision & opportunities that stimulate and inspire our young people.
Rushden Academy has an exciting Performing Arts program with Dance, Drama & Music embedded within the Key Stage 3 curriculum. All three subjects are then offered at Key stage 4 & 5 alongside other overarching subjects such as a specific Performing Arts qualification.
As a department we aspire to provide students with an opportunity to develop their skills and passion and foster a culture for appreciation of the Arts through a range of experiences and opportunities. From a curriculum designed to engage and excite, offering workshops delivered by industry professionals, regular trips to West End productions, opportunities to perform in venues around the county and producing work for the local community, to an extensive programme of Extracurricular events, Rushden Academy Performing Arts aims to create a culture of learning through the arts that encourages inclusion, promotes creativity, supports progression and develops crucial life skills.
Termly Curriculum Programmes
Dance
Drama
Music
Performing Arts : Extra Curricular
Alongside our engaging and inspiring Performing Arts curriculum, we also offer extensive extra curricular opportunities, encouraging our students to further develop their passion, learn new skills and become part of the wider school community all whilst doing something they love. 
SCHOOL MUSICAL - CAST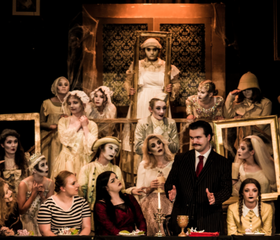 'Addams Family Musical' 2019Our annual whole school musical has quickly become a highlight of the school calendar. Performing in July with auditions in September, students rehearse weekly to produce a performance that has become widely recognised as highly professional, bursting with energy and a fantastic night out that truly showcases the talent here at Rushden Academy. Previous shows include 'Our House', 'We Will Rock You', 'Footloose', 'Little shop of horrors', 'Grease' and 2019's sold out performance of 'The Addams Family Musical'.  
'I have found the shows to be a lot of fun. We all work so closely together that by the end of the process we've become a family and saying goodbyes can be really difficult. The rehearsals are a safe space where we can all have a laugh and enjoy each other's company. I have found also that doing the shows has boosted my confidence so much and I credit doing the shows for helping me become both a better performer but also a better person" Kyra O. Year 11.
---
SCHOOL MUSICAL – ORCHESTRA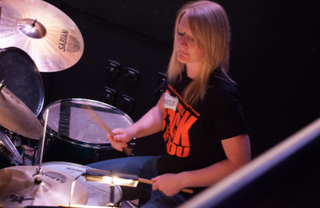 If music is more your thing then why not become part of the Orchestra for annual school musicals. A fantastic opportunity for any instrumentalist to become involved in something that brings the whole school together and work alongside staff, professional musicians and ex students who return year after year to support this huge event.   A musical would not be a musical without music and we are immensely proud of our student orchestra always stepping up to the plate to deliver a professional sounding show. 
---
BACKSTAGE CREW
Alongside our performers, Rushden Academy offers the opportunity to be a part of the Rushden Academy crew. Students work hard throughout the year to bring to stage the many shows that we have throughout the year including the Pantomime and ultimately the whole school musical. Students in the crew gain experience in working pre and post production and with a variety of departments backstage. As well as making and sourcing props, our crew make the sets for our performances and are given the opportunity to specialise in an area of technical theatre. 

---
PRODUCTION TEAM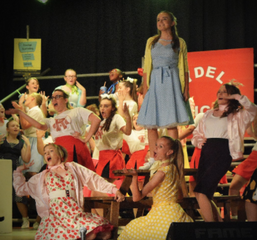 "Grease", 2018
No show is a success without those people who support unseen - from Costumes and Make-up to Marketing and Front Of House there is a role for those who prefer not to be in the limelight. Our Rushden Academy Production Team handle all those roles that support in the run up to the show such as sourcing or making costumes, designing characters make-up and hair and helping with quick changes during the show. To ensure we have an audience the show needs to be promoted. From designing posters, writing press releases for the newsletter or selling tickets, students are able to be involved in all areas of the marketing process for all events and shows. Once the audience arrives our team work Front of House, providing a warm welcome and wonderful refreshments and gaining valuable experience into the world of theatre as well as customer service and event management.
---
PERFORMANCE GROUP
Our performance group is made up of students who have demonstrated commitment in the previous school musical and continue to be involved in the shows. The performance group is invited to represent Performing Arts on occasions such as open evenings, additional showcase performances and school events well as taking on the ensemble role each year in the BTEC Level 3 Pantomime.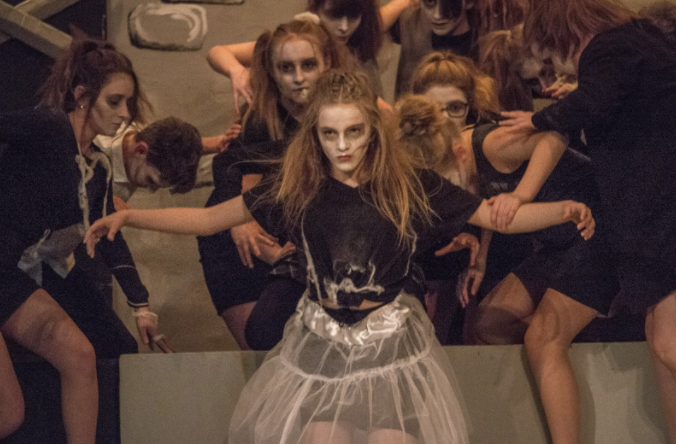 'Puss In Boots' Pantomime Performance group
---
DANCE CLUB
At Rushden Academy, our extra-curricular dance club is very popular. Open to all year groups and abilities across the school, the lunchtime sessions involve a mixture of techniques and dance styles. Being involved in Dance Club creates a great opportunity for students to improve movement memory, physical strength, flexibility, agility, coordination, balance, control, and mostly confidence. Roles of Student leadership are also given, assisting and creating choreography within the group. Our dance club focus not only on the physical benefits of dance but also on the social aspect too. We promote a fun and creative environment with the chance for students of all abilities to improve.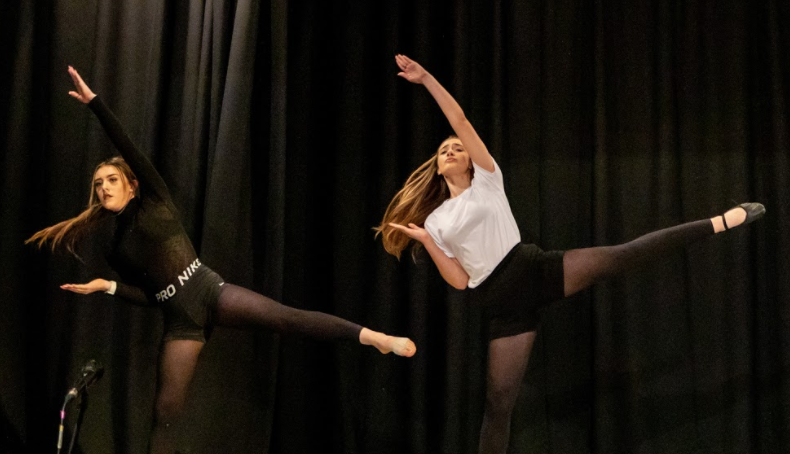 ---
 'EVOLVE' PERFORMANCE GROUP 
Evolve is an extra-curricular dance club composed of advanced, technically trained dancers with backgrounds in Ballet, Jazz and Contemporary. The group aims to promote the artistry and creative integrity of choreography and dance and also bridge the Rushden community with outside performing artists. Evolve is dedicated to artistic development by means of training, competitive performance and an intimate group environment. 
---
VOCAL GROUP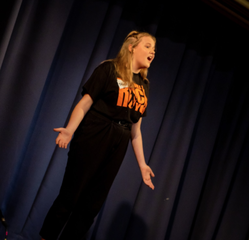 As well as the show orchestra for instrumentalists, Rushden Academy also run a cross year Vocal Group, allowing students from year 7 to year 13 to join together in voice! The Vocal group is a student driven group with members taking the lead on song choices, from musical theatre pieces to pop, nothing is off the cards for us. We have been able to support school events such as providing interval Carol singing at our school pantomime and singing for and with the local community at the SERVE Christmas dinner. Students involved get to build their confidence and vocal skill in a supportive and fun environment.
"Vocal group is not only about the ability to sing as a group but it also helped to build a friendship with a range of different aged pupils! It is an amazing opportunity which helped to build my confidence massively."
---
 PERIPATETIC MUSIC LESSONS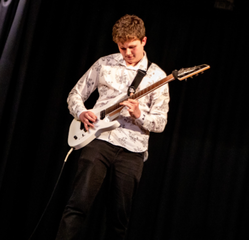 At Rushden Academy we have a wide variety of visiting tutors who work with our students delivering peripatetic music lessons. All our tutors are passionate and engaging in their teaching of their instrument and pass this on to their students. Over the years we have seen great outcomes from students who have undertaken lessons, many of these students have performed in our showcases and celebrations within school and a number have completed external Trinity graded exams in their instrument, all passing to a high standard. We are currently able to offer a vast array of instruments to study at Rushden Academy, from Piano and Singing, to Guitars, Strings and DJing. We also have numerous contacts to expand our offerings further should there be the demand. 
---
SHOWCASE EVENTS
At Rushden Academy we are very proud of the work produced within our Performing Arts lessons and look for every opportunity to showcase the talent we have throughout the school year.
We begin with our year 6 into 7 open evening whereby students share just a small selection of Drama, Dance, Music & Musical Theatre created the previous year as well as teasers for the year to come.
In February we hold our Spring Showcase, celebrating work in Dance, Drama & Music from year 7 to year 13. Students across the school are able to perform pieces created in lessons to a packed audience of friends and family.
From April onwards we hold numerous showcases, focusing on specific year groups. Year 9, 10, 11 & Level 3 BTEC each host an evening, often performing exam or assessment work in preparation for external exams or, in some cases to be formally assessed in front of an audience. Once again all disciplines are showcased and all students taking a performing arts subject are encouraged to perform.
After a few years off, Rushden's Got Talent was reintroduced in 2018 bigger and better than ever and is already in the calendar for future years. Held at the same time as Britain's Got Talent, RGT allows students from across the school to showcase their skills and talents in whatever discipline they choose. Previous years have seen Magicians, Bands, Dancers, Impressionists, gymnastic displays and even gun throwing! And you never know, there may even be one or two staff members making an appearance.
"Showcases are always a good way of seeing what other classes have been doing in lessons as sometimes we don't get the chance to see. Everyone enjoys it and has fun and it's a good chance for family and friends of the students to see how good they really are!" Lottie H, Year 11