About the Library at Rushden Academy
The Library at Rushden Academy promotes books and reading across the school, along with offering a place to go at break and lunch-time and organising extra-curricular activities.
The Library is open to students from 8.30am so that they can return or borrow a book or print off their homework before school starts. We will often have lessons booked into the Library for students to use the computer or book resources to help them with their studies. We also help to support the Year 7 & 8 English classes who are taking part in the Accelerated Reader program by helping students to find books they will enjoy to read and supporting the English teachers with delivery of the programme. At break and lunch times the Library is open for students who would like catch-up on homework, read quietly, ask staff about reading books or take part in a Library activity. Please see the list below for details.
We have a small selection of stationery items for sale including pens, pencils and rulers.
Reading and Activities
There are thousands of book titles students can choose from and staff are on hand to give advice and support students with the choosing of those books. Every break and lunch-time students are welcome to find a quiet nook in the Library and spend some time reading.
New books are added to the stock frequently and the titles are chosen with our students in mind; what they like or don't like, popular authors and series of books. We sometimes get recommendations from our students, which is a fantastic way of making sure that the books we buy are going to be popular with lots of students.
The Library has a team of Library Ambassadors who help the staff out at break and lunch-times. This team were mindfully chosen, knowing that they have a love of reading and are able to promote different books and use of the Library to their fellow students.
There are many book-themed events which the Library take part in, such as:
Harry Potter Book Night
World Book Day
World Book Night
Carnegie Medal Book Shadowing
Author visits or reading events
To support our members of staff the Library also has a 'Teacher Training' area, with many helpful books to choose from. Staff are also welcome to browse our fiction shelves.
Library Opening Times
Monday – Thursday 8.30am - 4pm (except during timetabled lessons)
Friday 8.30am - 3.30pm
Lunch-time Clubs in the Library
At lunch-times students can do homework either on the computers or at the desks; play a selection of board or card games; have a quiet catch-up with friends or choose or return their Library books. There is also a different activity on everyday.
(homework and reading can be done during break and lunch every day; games and catch-up with friends can happen everyday except Thursday lunch-time)
Manga Monday
If you are interested in learning to draw Manga or animae figures and faces; are already an expert and would like to help others learn or would just like to to colour some ready made Manga drawings then come in during Monday lunch-times.
Top Trumps Tuesday
Each term students in the Top Trump club will research a new topic, in order for them to create their own Top Trumps set, along with the facts, figures and drawings needed. In the last week of term there will be a Top Trumps competition using the newly created cards.
"What Are You Reading?" Wednesday
A gathering of eager readers talking about the book they are currently reading; giving oral book reviews; recommending different books or authors to other students and just generally spreading enthusiasm about all things book and reading related.
Tranquil Thursday
Thursday lunch-time is when we slow things down a bit, talk a bit quieter and encourage a bit of mindfulness and thinking in the Library. Come and have read, draw or get on with some homework...quietly.
'Fill-It-In' Friday
The pages need filling in with your solutions or colours, so take one of our tricky word searches, dot-to-dot, colouring pages or other puzzles to try and complete it during Friday lunch-time.
Activities may change throughout the year. We also sometimes have special events during the term, such as Harry Potter Book Night, so look out for any information or posters around the school.
Homework Club
If you don't want to leave your homework until the weekend, come along to study club and get it done before you go home. If you are going to come regularly you will need to get a letter signed by your parents/carers. Ask the Library staff for more information.
Monday, Tuesday, Wednesday and Thursday – 3.00pm - 3.50pm.
Links to reading websites
Click the icon or scan the QR code to link to the websites below:
Libresoft (Library Catalogue)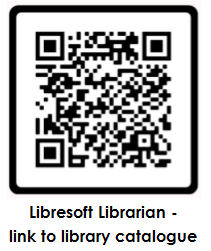 ePlatform (online reading site)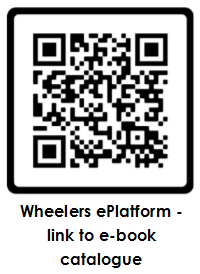 Accelerated Reader (AR reading quizzes)

Accelerated Reader (Book Finder)

If you have books at home and would like to find out if they are on AR and what level they are, then click here to be taken to the AR bookfinder UK website. You can type in the author, title or ISBN (the barcode on the back of the book) and if the book is on AR you will see the quiz number and book level.
Libresoft & ePlatform
Library Documents